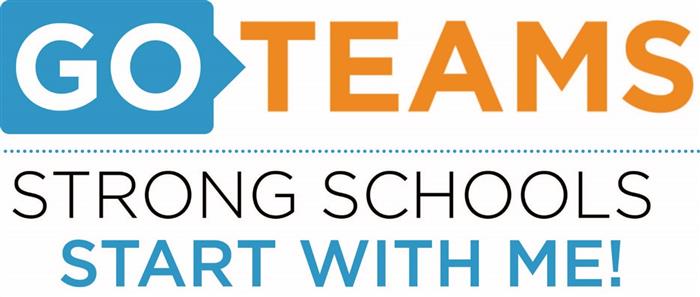 WHAT IS THE ROLE OF THE GO TEAM?
On September 25, 2015, the State Board of Education voted unanimously to approve the Atlanta Public Schools charter system application during its state board meeting. A charter system is a school district that operates under a performance-based contract between the local board and the state board of education. Under the Charter System, Atlanta Public Schools would gain freedom and flexibility from many state education laws and regulations in exchange for increased accountability for student achievement.
A key element to a charter system is moving decision-making closer to where learning takes place. That means leaving decisions to the school system and to the schools within the system. It also means involving more people in the decision-making process. To this end, implementing a "Go Team" for each school is the method the school system has decided upon to get the community, parents, and teachers involved in decision making to maximize educational opportunities for our students. Most members will serve a 2-year term. The GO Team is guided by the school's strategic plan. Click here to access the updated school strategic plan.
---
Garden Hills Elementary School GO TEAM MEMBERS:
Principal: Stacey Abbott*
Parent/ Guardian: Lamarr Kemp, III*
Parent / Guardian: Jason Holland
Parent / Guardian: Wade VanLandingham
Parent / Guardian: Kim Kleiss
Instructional Staff: Rasheda Aquil *
Instructional Staff: Ashley Wampler
Instructional Staff: Dr. Samuel Holmes
Community Member: Amayrani Moreno
Community Member: Dr. Kim Kleiss
Swing Seat: Genie Arcila*
Student (High Schools) : Not Applicable
* Indicates returning members from last year. Current year election results have not been made public to date. As soon as they are available, they will be posted above.
---
INFORMATION REGARDING OUR GO TEAM MEETINGS
GO Team Meeting Dates:
August 22, 2019 @ 5pm *public comment*
September 12, 2019 @ 4pm *public comment*
October 24, 2019 @ 4pm *public comment*
November 14, 2019 @ 4:30pm *public comment*
January 23, 2020 @4:30 pm *public comment*
February 20, 2020 @ 4:30 pm *public comment*
March 12, 2020 @ 4:30pm *public comment*
May 7, 2020 @ 4:30 pm *public comment* online session To join the video meeting, click this link: https://meet.google.com/fht-emgk-phk Otherwise, to join by phone, dial +1 413-758-0363 and enter this PIN: 227 240 003#
May 21, 2020@ 4:00 pm *public comment* online session https://meet.google.com/qbr-snmn-xvv
Join by phone ‪+1 260-897-1145 PIN: ‪478 140 114#
August, 13, 2020 @ 4pm * public comment*
All meetings will be hosted in the Garden Hills' Library. Public commentary will be welcomed at select meetings, announced in advance. Please read the following for information regarding protocol for addressing the GO Team at such meetings:
September 28, 2020 @ 4:00pm *Public Comment*
October 28, 2020@ 4:00pm *Public Comment*
November 11, 2020 @ 5:00pm * Public Comment*
December 8, 2020 @ 5:00pm *Public Comment*
January 26, 2021 @ 5:00pm *Public Comment*
February 16, 2021@5:0pm *Pulblic Comment*
March 9, 2021@5:00pm *Public Comment*
May 11, 2021@5:00pm * Public Comment*
September 1, 2021@5:00pm * Public Comment*
GO TEAM PUBLIC COMMENT FORMAT- GARDEN HILLS ELEMENTARY
Up to 20 minutes will be set aside for public commentary at select meetings. Public comment is open to all.
15 minutes prior to all Go Team Meetings a clipboard will be posted for anyone who wishes to sign up to address the Go Team. The speaker will indicate their name and topic of address.
The principal will introduce the Speakers
Each speaker will have 2 minutes to share with the Go Team.
The GO Team will not directly address concerns but may add items to future agendas or later assist speakers with needs.
The Vice-Chairperson will time the speakers and at 2:00 minutes thank them for sharing.
If there are no speakers for public commentary at the published meeting start time the Go Team will proceed with their agenda.
If there are more than 10 speakers for any public commentary, only the first 10 will have the opportunity to speak at the meeting.
September 28, 2020 @ 4:00pm *Public Comment* – Zoom Meeeting
Link to Meeting: https://atlantapublicschools-us.zoom.us/j/88116565808?pwd=V05YeWFXWk1yK21sQWJQd291bDhmZz09#success
GO TEAM PUBLIC DOCUMENTS:
January 26, 2021: MEETING NOTICE: AGENDA: MINUTES
December 8, 2020: MEETING NOTICE: AGENDA: MINUTES
November 11, 2020: MEETING NOTICE; AGENDA; MINUTES
DECEMBER 5, 2017: Meeting canceled
NOVEMBER 8, 2017 WORK SESSION AGENDA
APPROVED MINUTES MAY 23. 2017 GO TEAM MEETING
AGENDA FOR MAY 23,2017
MINUTES FOR MARCH 30, 2017 "CALLED MEETING" (NO AGENDA)
MINUTES FOR MARCH 21,2017 MEETING
AGENDA FOR MARCH 21, 2017
APPROVED MINUTES FEBRUARY 2, 2017 GO TEAM MEETING
AGENDA FOR FEBRUARY 2, 2017 GO TEAM MEETING
APPROVED MINUTES JANUARY 17, 2017 GO TEAM MEETING
APPROVED MINUTES DECEMBER 8 GO TEAM MEETING
AGENDA FOR JANUARY 17, 2017 GO TEAM MEETING
AGENDA FOR DECEMBER 8 GO TEAM MEETING
APPROVED MINUTES SEPTEMBER 29 MEETING
AGENDA FOR OCTOBER 27 GO TEAM MEETING
SEPTEMBER 29 & OCTOBER 3, 2016 MEETING SUMMARY
AGENDA FOR SEPTEMBER 29,2016 GO TEAM MEETING
SUMMARY OF ACTIONS FOR GO TEAM MEETING 8/25/2016 AGENDA